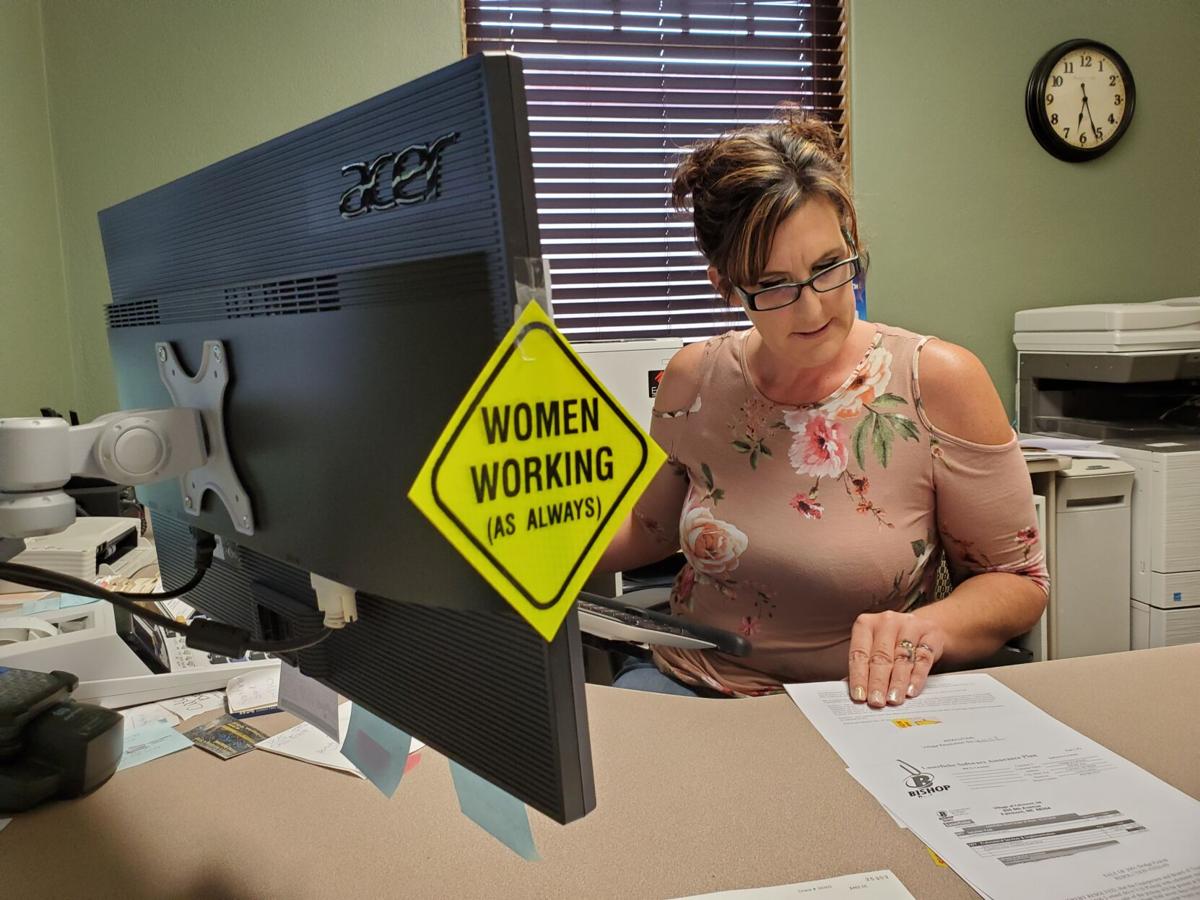 FAIRMONT--Sherry Rose started pursuing her GED per chance – a second chance.
Rose attended the adult education class in York to help her then-husband, who has dyslexia, reach the milestone. "He dropped out and I kept going," Rose said.
That was October 2018, and years later Rose not only has her GED, but a job as Fairmont's deputy village clerk. "I never in my life thought about what goes on in a village hall or city hall," Rose said. In fact, government was her least favorite class while she was in school.
"She thinks she's going to mold me and get me to stay," Rose joked.
The highly-skilled occupation is a far cry from the days Rose worked five jobs, seven days a week and was hooked on methamphetamines. Her addiction lasted over a decade. "I took only one try," Rose said, and her entire life was changed. "When you're into drugs, you don't think about your future," she said.
Now seven years sober, Rose thinks about her future, one full of possibilities. "Doing things and accomplishing things makes you not even want to [get high]," she said, and added that she often says to herself, "I'm not going to do this [drugs]. No, you're not going to control me; you're not going to hold me down." In July, she accomplished the first of what will likely be many achieved goals following her emancipation from meth: earning her GED.
"I just sat there and started doing the classes," Rose said modestly. "It was meant for me to keep going." Following the final exam, Rose said her anxiety nearly reached a boiling point. "I remember crying when I finished the test: 'I failed… I failed." After checking and re-checking the internet for her results, they were finally posted. "It was from scared cries to blubbering, 'I did it. I did it!'"
No one plans to become a meth addict. Before moving to Geneva, Rose was a student at Millard North (Omaha). "I loved school," she remembered. "I loved to learn." Well before she reached her senior year, Rose was but five credits short of graduating high school at Millard North. When she moved to Geneva at 17, she became pregnant and decided to take a break, planning to go back. Twenty years later, not only has Rose received her own diploma, her daughter graduated from Fillmore Central the year before. Rose said her family are her biggest supporters – especially her daughter. "She said, 'Mom, you've got this,'" Rose said. "She watched me work hard; she's seen the struggle." Her daughter sees people who are still using, often asking Rose, "Why can't they be like you?"
"I'm going to keep pushing it," Rose said. "If that's what keeps me sober and proud of myself, I'm going to keep on going." Someday she hopes to get her associate's degree, though she hasn't decided what to study yet. Rose has always wanted to be a bank teller. "That would be amazing to do math every day," she said with a wistful smile. Rose said she's also considered a career in law enforcement – maybe as a probation officer. "I feel like I could help," Rose said, adding, "It would be something to help me with the wisdom of my past. I try to see the future and what I want. I don't want to go back to school until I know more about what I want to go to school for."
Rose has plenty of experience to inspire her. The daughter of a military man, Rose's family has lived all over the country, but she considers her home state California. Asked where she wants to be someday: "In five years I hope to be somewhere warmer," she said, laughing. In the meantime, she has aspirations many people take for granted. "I want to have health insurance. I want a nice vehicle I can be proud of – and only go up from here."
Be the first to know
Get local news delivered to your inbox!