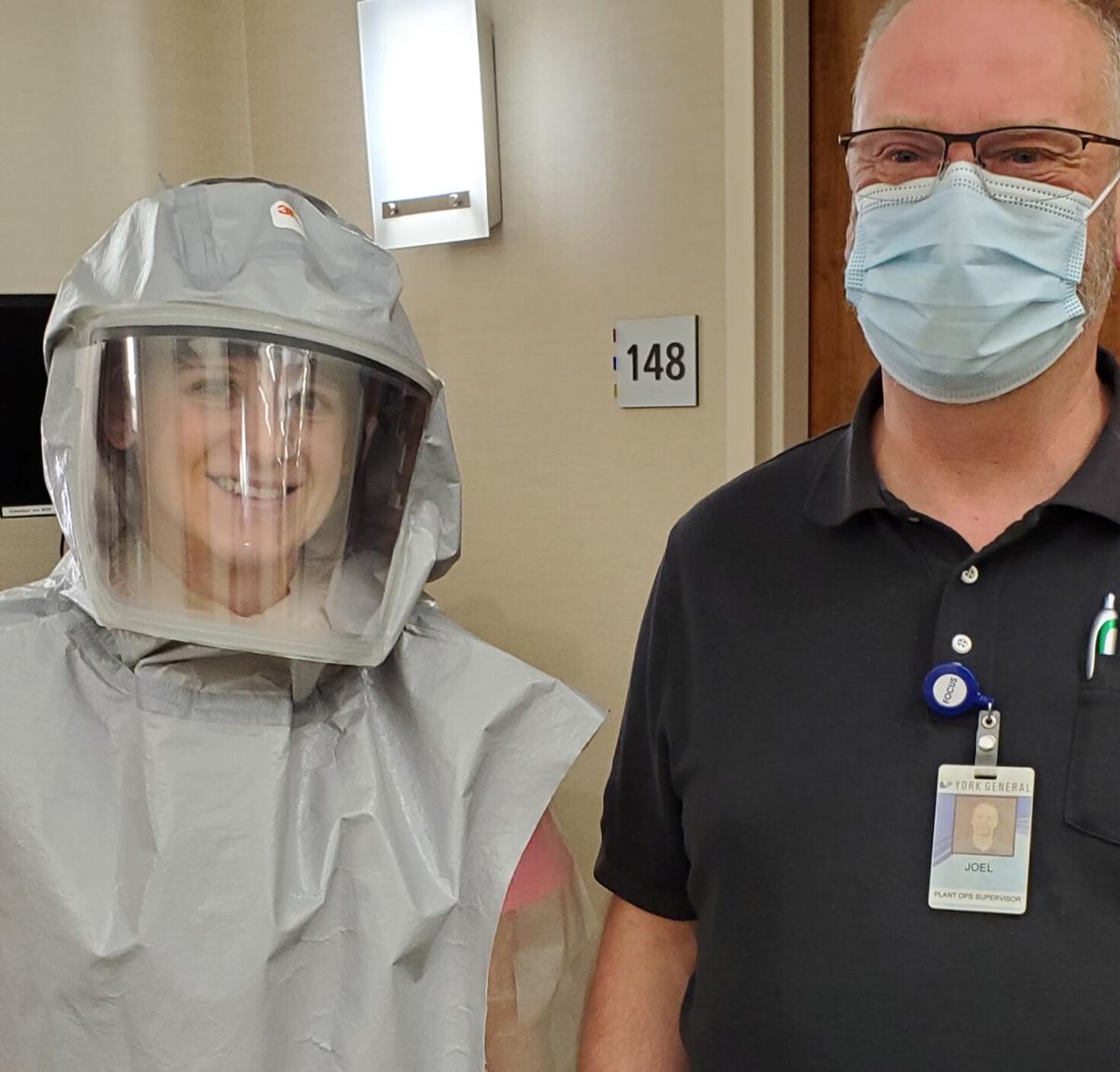 YORK – It started out as a headache and a fever.
"I didn't think much of it. I had a lot of stuff I was doing, I figured it was probably more stress than anything."
Joel Weisheit, an employee of York General, within days went from maintaining with Tylenol to being secluded in a hospital room reserved for COVID-19 patients, health care professionals coming in and out wearing full-body suits fit for a science fiction movie.
The early symptoms gave no indication that a hospital stay was in Weisheit's near future. "I thought I could fight through the fever part of it," he said. "My fever spiked to 103. At that point I called the clinic." Doctors gave Weisheit a prescription, and he went home to recover.
Still the novel coronavirus persisted. "Finally I said, 'I can't take it anymore.' I reached a point where I decided I need more help than what I've done so far, Weisheit said. "When I left the house [my temperature] was 104 [degrees Fahrenheit]." His wife drove him to the hospital, where they administrated an oxygen test. His oxygen saturation hovered around 80. Normal ranges from 95-100 [percent] – in most people under 90 merits the use of supplemental oxygen.
"At that point they told me they were going to admit me. I asked if it was really that bad – I thought they'd just give me something for the fever and send me home. They said, not with your oxygen that low," Weisheit said. "I stayed on oxygen pretty much the entire time I was here."
Weisheit was outfitted with IVs, including being given convalescent plasma, which is an antibody-rich plasma coming from blood donations given by individuals who have recovered from the disease.
"They were changing out bags from 9 o'clock in the evening until 1:30 in the morning or so," Weisheit said. One night must have been particularly bad, Weisheit said, though he remembers little about it. The doctor was called in. "I remember him coming in there was some concern I don't even remember what he said or did. I think I had fallen asleep at that point," Weisheit said.
Two days into his hospital stay, his lungs still struggled with the virus. "When I was two days into it, they switched me out – they took me off regular wall oxygen. Sometime in the night they took me off that and put me on a machine it was a much bigger hose and the pressure going up your nose more."
Oxygen aid at that point came from a "vapotherm," which pushes the precious oxygen needed through nasal tubes more forcefully than a regular oxygen setup, among other differences – including shorter tubes. "Being on the short leash of the hose is from the bed to the chair -- I'd stand there and watch out the window," Weisheit said. On his short leash, he watched his coworkers move snow. "I did give them a little crap, sending text messages and stuff," Weisheit said. He also thought about his coworkers fighting the heavy snow short two workers, including Weisheit. "I did feel bad. They were working 24/7."
There was little he could do, especially in those first few days. Feeling drained and often feverish, Weisheit said he didn't feel like doing much. "I slept a lot. I either stayed in bed or sat in the recliner and slept," he said. "I pretty much lost my appetite. I never lost the taste or the smell."
Over the course of his illness, Weisheit's weight dropped 15 pounds.
Nine days from being admitted, Weisheit was discharged from the hospital's COVID-19 unit. "You work here, you know that wing is here you didn't expect to be up there," Weisheit said. A few weeks later, Weisheit said he still feels some of the aftereffects. "If I walk from one end of the hospital to the other I notice it when I get to where I'm going, I've got to stop and take a minute," he said. Things could be much worse, though, Weisheit added. "I feel pretty close to 100%. It took a while to get there I know there are people out there who have taken a lot longer than I have. I feel pretty lucky. You hear stories of other people going months to recovery."
Weisheit's recovery includes follow-up checkups. "I have a follow-up here in a couple of weeks," Weisheit said. "I had a follow-up a week after I got out. He said they looked bad but it was a huge improvement."
Weisheit uses a severe bout of whooping cough to measure his COVID-19 experience. "I had whooping cough about 15 or 16 years ago. I had that pretty bad. I would say this was even worse than that. That lasted longer – took longer to get over, but this was just all at once for 2-3 weeks."
The risk to contract coronavirus was in the back of his mind, but Weisheit said he never expected this experience. "That first night was scary. I thought at that point we'd been about a year in and I thought maybe I'd already had I and didn't know -- or maybe I had the antibodies and wouldn't get it, but I did. I never thought I was going to get that sick from it. I just figured I'm pretty healthy. I don't really have any other health issues. I didn't think it would be this bad."