YORK – York Elementary School dismissed for the day – a very special one. Stella Turner exited the school doors dressed in pink, toting her Ghostbusters backpack and wearing a look of joyful anticipation on her face.
There was something strange in the neighborhood. Waiting in the YES parking lot was her dream car; not a Porsche, not a Corvette. Not even a Ferrari.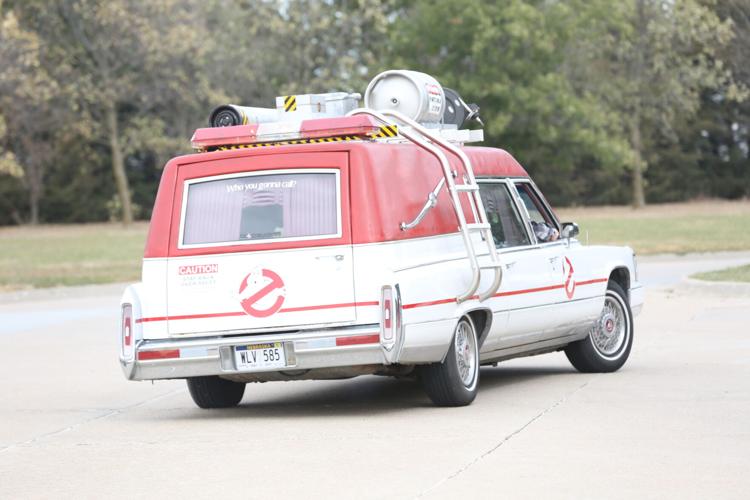 The kindergartener can recite the movie "Ghostbusters" verbatim, after years of watching it with her father. She's even been a Ghostbuster for Halloween. When news of J&R Heating and Air's raffle for a ride home from school in the iconic movie's equally-iconic car reached Stella's grandmother, Kelly Turner, Kelly immediately knew she needed to buy tickets. It was almost too late when Kelly stumbled upon the announcement on Facebook. She bought five.
The Ghostbusters ride wasn't going to make a dream come true only for a kid like Stella. A dream come true for any kid is in the works in York: the Peyton Parker Lane Playground. The ADA all-inclusive playground fundraising is underway, the project inspired by Paul and Alisa Jaekel's son Gracin, who has Down Syndrome, and two other young family members with special needs. Playground organizers and advocates are working to make a play space for all abilities that breaks barriers physical and social a dream come true for all families.
J&R Heating and Air co-owner Nancy Davidson said she and her co-workers knew they wanted to do something to contribute to the playground's fundraising efforts. Davidson first learned of the ambitious project at a York City Council meeting. The effort being put forth for the playground and its intent touched her. "It's such a beautiful thing to have something as important as play," Davidson said. "We think the [Peyton Parker Lane Playground] foundation is an amazing thing."
As ways to help make the Peyton Parker Lane Playground happen percolated in her mind, she stumbled upon something she first thought J&R Heating and Air itself could benefit from: an Ecto-1 for hire – complete with a proton pack-toting Ghostbuster. "As much as I wanted to have him at J&R, I thought maybe we could make this into a benefit for the playground," Davidson said. "It's just wacky enough that people will remember it. At the very least the playground will stick in people's minds."
The raffle was a hit, bringing in over $1,000 worth of ticket sales. Kelly's last-minute purchase of five tickets seemed like a drop in the bucket, but the family's generosity was rewarded with an experience bigger than the Stay Puft Marshmallow Man. "All grandmas want to see that smile on their grandchild's face," Kelly said, adding: "It's about the park. I think it would be a great thing for York to have it."
The event and the prospect of helping a worthy cause like Peyton Parker Lane Playground touched Davidson, too. Having the raffle seemed to fit Davidson's outlook well. "It's so fun to make these creative activities to make people smile and bring joy," she said.
There were smiles and joy all around as the Ghostbuster, Stella and her dad climbed into the Ecto-1 and exited the YES parking lot. Soon there will be a park that does the same.
Be the first to know
Get local news delivered to your inbox!