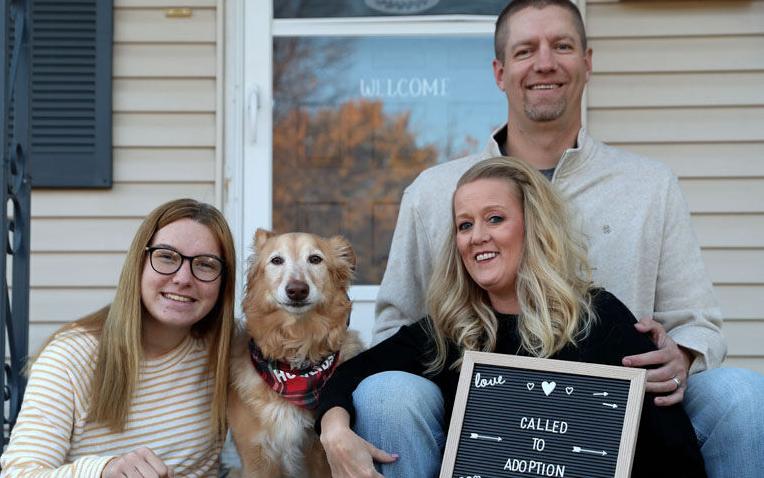 Kyla Endorf always knew she wanted to be a mother.
Even in high school, she said, she realized she saw adoption as being her route to motherhood.
"In high school you're thinking about getting married and having kids," she said. "I've always felt like I was never going to have my own kids and that adoption was going to be the way I was going to become a mom."
Little did she know the twists and turns, heartache and hope, she would endure with her husband Mike by her side through it all.
Like many a modern love story, Kyla and Mike met on a dating website. Since that virtual "wink" in 2021, Kyla and Mike were married, Kyla even adopting Mike's daughter from his first marriage, Carreagan.
"Carreagan and I have a very close bond. There are a lot of people that wouldn't even think that she wasn't mine," Kyla said, smiling.
The Endorfs — Carreagan included — still felt they had room for at least one more. Kyla knew from her previous marriage she had fertility issues.
"Mike knew my situation, from very beginning that I couldn't have kids. We knew that growing our family, it was going to have to either be through IVF or adoption."
After failed IVF attempts, Kyla developed a cyst, which would leave her without her right ovary. But when that door shut, another opened, she said. "As we were being told about my ovary, my doctor suggested embryo adoption."
Embryo adoption has gained popularity in the past decade or so as more would-be parents turn to IVFs. An overabundance of eggs from IVF can be donated to science, destroyed or adopted and implanted. "My issue is not being able to carry," Kyla Endorf said. "My oven is perfect, what you put into the oven is not perfect."
After finding a couple with embryos up for adoption — whose family would become the Endorfs lifelong friends — the Endorfs adopted six eggs.
One transfer didn't take; the other was a chemical pregnancy.
"After that, I was mentally, physically, emotionally destroyed. The chemical pregnancy literally broke me. Your body goes through all the emotions … your body thinks you are pregnant, but the egg is not viable."
Mike was by Kyla's side and watched as his wife took hit after hit.
"She went from the jubilation of being pregnant to be told it was a chemical pregnancy and it was for naught," he said.
Kyla said softly, "We finally thought it was going to happen."
All efforts were paused during the height of the pandemic, but the Endorfs are still trying, this time via a more traditional adoption. They chose a Christian adoption consulting company to guide them.
Kyla said it has been worth getting that extra help. "You might end up paying a little bit more in the end, but adoption is a long process. It's emotional. It's a lot of paperwork. But the way they have it laid out, they give you so much information and so many places that you can go and people that will help you."
As the couple's adoption package is completed, it is only a matter of time before they are matched with a birth mother, Kyla said. "Whether we will be matched and the birth mother is seven months' pregnant or six months' pregnant, and we get to continue the end of the journey with her, or whether we'll get to be in the delivery room … or if we will get matched, travel and get our baby in one day. We have no idea."
In anticipation, a room in the Endorf home is being readied for their new addition — or additions, as the couple decided to be open to adopting multiples. The walls are painted and inspiring décor sharing phrases of hope and joy have been carefully positioned on the wall. A bounce swing is ready to go in the corner. Mike pointed out the crib still needs to be put together.
As Kyla folded a onesie, Mike explained how the couple's faith has been bolstering them through the heartache and trials. "There are so many babies still out there that are to be adopted that are looking for their forever home in their family. We just know that God has led us this way. We know that God has a plan for us. And we hope and pray that his plan is for us to have a baby."
If there is a reason for the pain, Kyla said they don't yet know it. "I've prayed to Him and asked Him about that a lot, but I can't imagine my life any differently if I have not gone up the hill that I've been through."
Mike said, "Without being unsuccessful, we wouldn't have ended up where we are now."
Where they are now: a fate-fueled friendship with their embryo donor family states away, a daughter who can't wait for a little brother or sister, a partially completed nursery, a new addition to the family coming and strengthened faith.
This time the only difference will be the biology — though in the Endorf's eyes and hearts that often-perceived difference doesn't exist.
"Love does not have to be biological," Kyla explained. "It does not have to be blood. You love your family, you love your husband, you love his family or you love your friends. You don't have to be biologically related to somebody to make them feel like they're yours. They're a part of you."