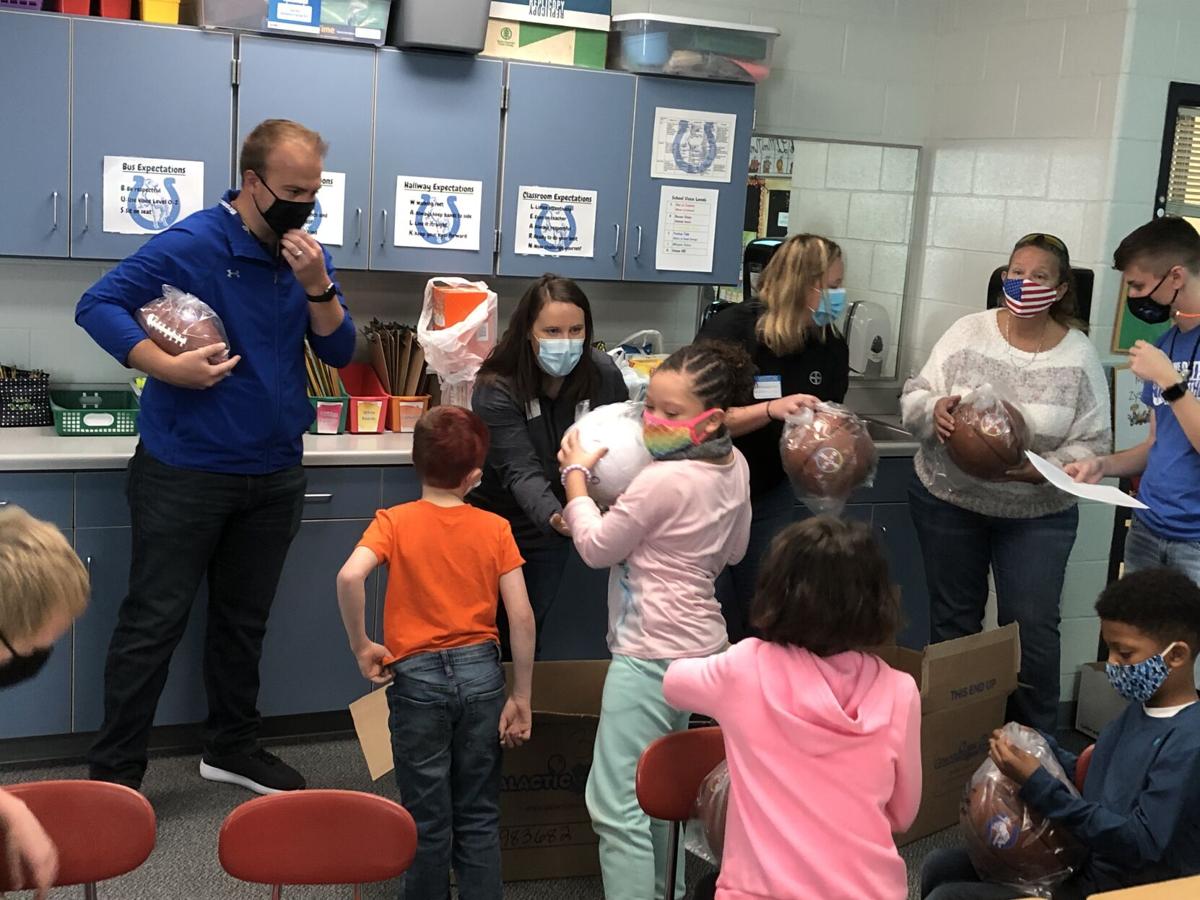 UTICA – An effort to ensure people are healthy worldwide has come to Centennial Elementary School.
Jake Polk, Centennial Elementary Physical Education teacher wanted to make sure his students stayed active beyond school bells. He found that something as simple as a ball to play with are unavailable to his students while at home. "I hear from individual students on multiple occasions about not having a ball at home to play with and it breaks my heart," Polk said. He came up with an idea to give each of the 240 Centennial Elementary students their own ball to keep at home – their choice of a basketball, volleyball or football. The project was dubbed "Ball for All."
Obtaining 240 athletic balls in a small, rural school seemed daunting, until employees from the Bayer Waco Breeding and Product Supply Corn Facilities stepped in to help. "Ball for All" seemed like a perfect way to not only support a local school, but carry out Bayer's vision of "Health for All, Hunger for None."
The worldwide initiative works with government agencies, health authorities and other organizations to not only fight the COVID-19 pandemic, but make communities healthier beyond that mission. "We have an obligation to those on the front line and behind the scenes who have kept us going – the farmers, healthcare professionals, and the everyday heroes of our communities," a Bayer news release states. The initiative embraces, in part, promoting and providing resources for healthy and active youth development, brought close to home by Centennial Public Schools and Bayer's Waco site colleagues, who hand-delivered the children's sports balls of choice to enthusiastic students November 13.
While everyday heroes benefit from "Health for All, Hunger for None," the employees from the Bayer Waco Breeding and Product Supply Corn Facilities in a way became everyday heroes themselves by supporting Polk's vision.
Jerry Garcia, Waco Breeding Site Lead, said he and his colleagues were simply doing their part to support a company – and a school – with children's best interests at heart. "For me to know that young students will now have a new means to stay active at home, with sports ball that they got to choose themselves, is such a great feeling. To be a part of a company that allows us to help our community when asked and help bring the initiative Ball for All and the Bayer vision, Health for All, Hunger for None to life is an amazing feeling," Garcia said.
Be the first to know
Get local news delivered to your inbox!