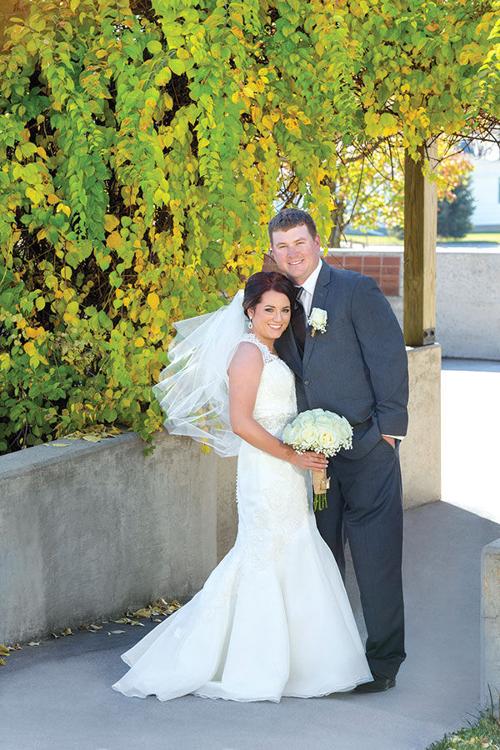 YORK – Hannah Lott and Charlie Robison exchanged wedding vows on Saturday, Nov. 12, 2016 at First United Methodist Church in York.
Rev. Murry Johnston officiated the ceremony.
Parents of the couple are Randy and Fran Lott of Benedict and Doug and Jane Robison of Alma.
The bride was given in marriage by her parents, Randy and Fran Lott. Sara Dofner, of Council Bluffs, Iowa, served as the Matron of Honor. Bridesmaids included Katrina Quick of Lincoln, Kelly Kobza of Bellwood, Whitney Fowler of York, Alison Anderson of Omaha, Olivia Ames of Elkhorn and Jessica Lott of Benedict.
Ben Robison, of Alma, served as the Best Man. Groomsmen included Lucas Robison of Alma, Blaine Janssen of Alma, Lane Wright of Alma, Maverick Churchill of Alliance and Mike Hostetler of York. Connor Dofner of Council Bluffs, Iowa and Mack Robison of Alma served as Ring Bearers.
Ushers for the ceremony included Trent Christensen of Alma, Austin Davis of Alma, Chad Whetstine of Alma, Jesse Dofner of Council Bluffs, Iowa and Todd Schaeffer of Stapleton.
A reception was held at the Holthus Convention Center in York and the couple is currently making their home in Alma.
Hannah is a graduate of Nebraska Wesleyan University and the College of Saint Mary Business. She is currently a teacher at Red Cloud Community Schools.
Charlie is a University of Nebraska – Lincoln graduate and is currently working as an agronomist and farmer.
Be the first to know
Get local news delivered to your inbox!