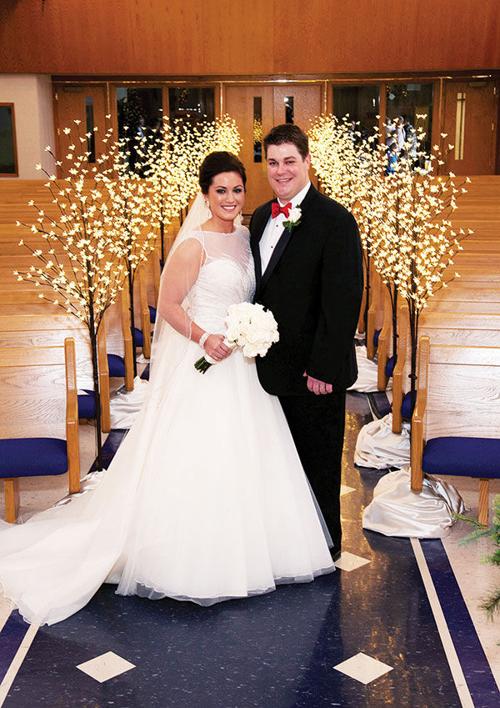 Happy anniversary to Katie and Kellen Jorgensen who were married on Jan. 3, 2015 at the American Lutheran Church in Gothenburg.
The couple met at the AK-SAR-BEN Coronation and Scholarship Ball in October of 2013 as Heartland Princess Katie Beth Keiser and Heartland Escort/Escort Chairman Kellen Dean Jorgensen. Their parents are Brian and Torey Keiser of Gothenburg and Kelvin and Marsha Jorgensen of Exeter.
Their candlelight ceremony included family and friends from near and far along with many of their college acquaintances from the University of Nebraska and Kansas State University. Katie's Maids of Honor were her sisters: Amy Keiser and Kelly Keiser Terrell. Bridesmaids were Erin Dooley, Katie Bolling, Nichole Horn, Kayla Knopik, Jessica Soutoc and Klaire Jorgensen Jagels. Best Man for Kellen was Clint Mundell and the groomsmen included: Riess Bruning, Dr. Donald Sunday, Matt Mueller, Mitch Pankoke, Dr. Shane Terrell, Derek Jagels and Billy Harris.
Ushers were Jason Keiser, John Dooley, Jared Thomsen and Kendall Clark. Flower Girls were Selah and Hannah Peterson with Clay Terrell as Ring Bearer. Guest Book and Program help was Helene Keiser, Inga Dovre, Heath Keiser and Jurgen Dovre. Reader was Emily Keiser with music provided by John and Kaitlyn Clark and The Treble Makers. Officiants were Pastor Jon Mapa and Pastor Gloria Keiser Dovre.
Host and Hostesses were Mike and Roxanne Dooley, Matt and Laura Lauer, Glen Petersen and Mary Jo Weber and Jason and Micky Tatro. Reception Coordinators were Carol Keiser and Vickie Keiser.
The reception was held at Walkers Steakhouse with music provided by The Cactus Hill Band.
Katie and Kellen are at home at 315 Road V north of Exeter where the couple farms and does custom haying and partners with Kellen's parents raising purebred cattle.
We wish Kellen and Katie many more years of happiness together and congratulations on their first anniversary.
The Keisers and Jorgensens and Friends