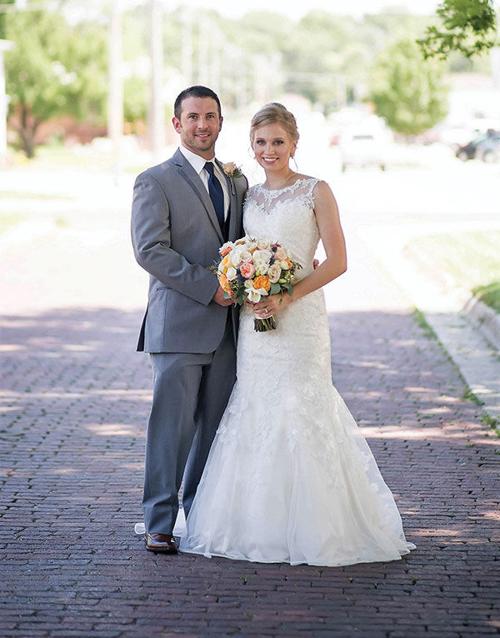 YORK – Laura Beth Clark and Matthew Allen Brackhan exchanged wedding vows on Saturday, July 23, 2016 at Emmanuel Lutheran Church in York.
Pastor Heath Trampe officiated the ceremony.
Parents of the couple are Brian and Beverly Clark of Lincoln and Mike and Pam Brackhan of York. Grandparents of the bride are Boyd Wakelin and the late Marlene Wakelin and the late Dean and Harriet Clark. Grandparents of the groom are Allen and Sharon Brackhan and the late Richard and Annaliese McCall.
The bride was given in marriage by her father Brian Clark. Emily Clark, sister of the bride, served as Maid of Honor. Bridesmaids included Anne Martin, Nicole Sullivan and Katelyn Stanley. Emma and Reagan Sieh served as Flower Girls.
Nathan Brackhan, brother of the groom, served as the Best Man. Groomsmen included Teran Walford, Adam Hamling and Sean Walkup. Reid Allison was the Ring Bearer. Serving as ushers were Jake Staehr, Parker Jolly, Riley Newcomer and Eric Naber.
Music for the ceremony was provided by pianist, Ronda Gerken and soloist, Mr. Brady Rohffs.
A reception was held at Stone Creek Even Center in McCool Junction.
The couple enjoyed a honeymoon in Boston, Mass. and are currently at home in Seward.
The bride is a 2009 graduate of Waverly High School and graduated from the University of Nebraska – Lincoln with a degree in Elementary Education. She is currently a 5th grade teacher at Hill Elementary in Lincoln.
The groom is a 2008 graduate of York High School and earned a Bachelor and Master of Education from the University of Nebraska – Kearney. He is currently a Physical Education teacher at York Public Schools.
Be the first to know
Get local news delivered to your inbox!