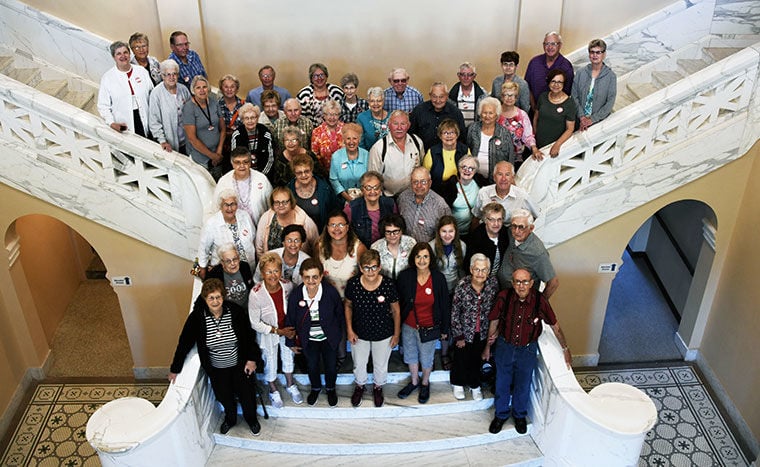 The Fun Club has returned from their three-day Mystery Trip to northern Nebraska and southern South Dakota.
Fifty-one Fun Club travelers toured several locations in the two-state area.
In Neligh, the group toured the Neligh Mill which retains all of its original flour milling machinery and is the last intact nineteenth-century flour mill in Nebraska. The Fun Club also toured the Pierson Wildlife Museum which has an amazing collection of wildlife mounts collected by Dr. Ken Pierson from all over the world. Another collection viewed by the travelers was Furstenau's John Deere Museum with over 200 John Deere tractors. One of my favorite activities in Neligh was visiting the 1950s era Country School which has recently opened for tourism.
The Fun Club visited Ashfall Fossil Beds near Royal, where paleontologists have uncovered well-preserved skeletons of the beasts that roamed Nebraska millions of years ago. The travelers toured the beautifully restored St. Wenceslaus Church in Verdigre. And a fun stop was Elgin, where the group rang the old school bells, church bells, dinner bells and other bells in Jim Meis' "Bells of the Prairie" collection.
The Fun Club also had fun in South Dakota. The Mead Cultural Center in Yankton housed a fabulous Lewis and Clark exhibit. The building is gorgeous with its marble staircase and stenciled ceilings. And, in Letcher, S.D., the travelers marveled at the exquisite work at the Hansen Wheel and Wagon Shop which has a worldwide reputation for both restoring and building stagecoaches and wagons of all types.
A most unique building is the Corn Palace in Mitchell, S.D., which features grain murals on both the outside and inside of the building. The outside designs change every year and this year they feature a Salute to the Military. Another fun activity in South Dakota was the stop at Kolach Days in Tabor.
Those who participated in the Mystery Tour were Doyle and Carolyn Frazier, Glen and Joann Bower and Wally and Marlene Larson, all of Stromsburg; Jim and Pauline Bulgrin and Don and Ardee Rut, all of Utica; Carl and Marie Brown of Polk; Joyce Dose of Hampton; Cynthia Kraus of Albion; Walt and Elsie Goertzen of Henderson; Franklin and Phyllis Hronik and Bette Tomes, all of Seward; Agnes Loukota of Exeter; Curtis and Christine Huber of Central City; Berniece Luthy of Phillips; Judy Sullivan of Aurora; Doris Rogers and Nancy Seward, both of Fairmont and Rynee Spencer of McCool Junction.
There were several family units represented on this tour: Linda Strotman of Aurora traveled with her mom, Doris Djernes of Phillips; Vauna Fort of Aurora was accompanied by her 16-year old granddaughter, Sydney Dyer; Alma Bailey of York traveled with her daughter, Dallas Wellensiek of Omaha; Adeline Otto of York traveled with her sister, Berdeen Siebke of Grand Island, her daughter, Cynthia Bolte of McCool Junction and family friend, Nancy Heinrichs of Carleton.