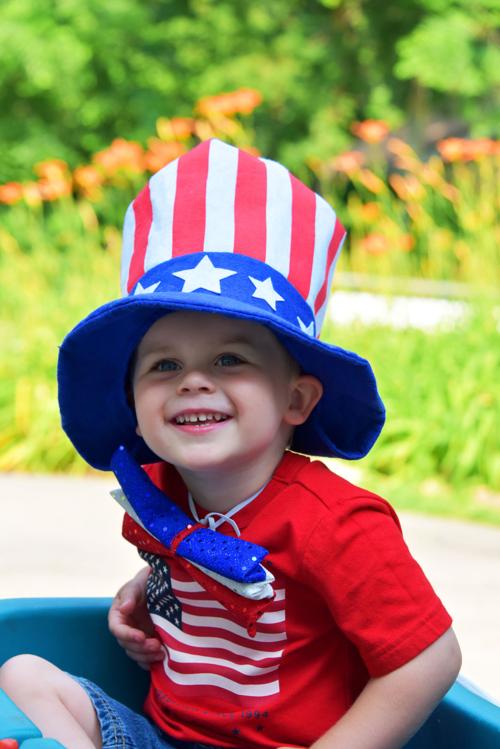 Was the 4th of July a little different for you this year than your usual Independence Day celebration?
It sure was for our family. For many years, we've spent the holiday with our daughter and son-in-law, Amy and Justin Johnson, and their children for their 4th of July neighborhood parade in Lincoln.
I really love this activity. About 150 people have walked the parade route in recent years. A dozen band students lead the parade, kids ride their decorated bikes and scooters, moms push infants in strollers, dads pull wagons filled with preschoolers, some wave flags, and everyone is decked out in red, white and blue. It's such a simple thing, and yet so patriotic and fun.
And a couple of times through the years our whole family has packed up and ventured to Chicago to join our other daughter and son-in-law, Lisa and Aaron Tvrdy, to experience the holiday in the Windy City.
This year, due to Covid-19, neither activity was possible. Parades are still prohibited in the Governor's plan for Phase 3, so that nixed the neighborhood parade. And we sure didn't want to go to Chicago during these troubled times.
But we certainly enjoyed the holiday. Lots of fireworks, great food, swimming with the grandkids and other family fun filled the weekend. Lisa and Aaron and 6-month old Henry traveled to Nebraska for the holiday and that sweetened the deal.
Due to Covid-19, there have been no Fun Club activities lately but I thought I might share a few 4th of July memories that Fun Club travelers shared with us on a trip last year.
Ardee Rut of Utica shared this memory: "When our kids were in grade school we sold fireworks out of a vacant store in Utica. Our son especially liked the experience. Then on the 4th when we were done selling, the kids took the "leftovers" to our annual neighborhood fireworks party. And there went the profits!"
Judy Sullivan of Aurora wrote: "My most memorable 4th of July was when my dad and I and my four kids went to Washington D.C. to visit family. My cousin took us to Arlington National Cemetery to watch the fireworks. We stood by the Statue of Iwo Jima while the Carillon Tower played 'The Battle Hymn of the Republic.' The Washington Monument was in the background. We all watched with tears in our eyes."
Agnes Loukota, formerly of Exeter, remembered the time she was at the Geneva Country Club for fireworks. She said: "Everyone was sitting on blankets or lawn chairs enjoying the show. Suddenly, about halfway through, the lawn sprinklers came on and we all got wet!"
Doyle and Carolyn Frazier of Stromsburg shared this story: "Before we moved to Stromsburg, we lived in Shelton. Both Gibbon and Shelton have nice 4th of July parades. We own a 1957 Ford retractable convertible and our children and grandchildren decided to drive our old car in the parades. We thought it was a great idea until we saw them coming down the street with signs showing a picture of Doyle and the words 'Doyle Frazier for President.' "
Deb Figgner of York wrote: "When I was 12 years old, we were spending the 4th of July at my grandparents' farm near Oxford. My older cousins, who were boys, were lighting fireworks. There were a few that had to be nailed on trees and when they lit them they would spin. One of these fireworks flew off the tree into the dry grass and started a fire.
We tried to put it out with no luck and had to call the Oxford Fire Department. My uncle, the father of these boys, was the Fire Chief. Can you imagine his surprise when he learned the fire was at his parents' farm and his sons caused the fire?"
Be the first to know
Get local news delivered to your inbox!