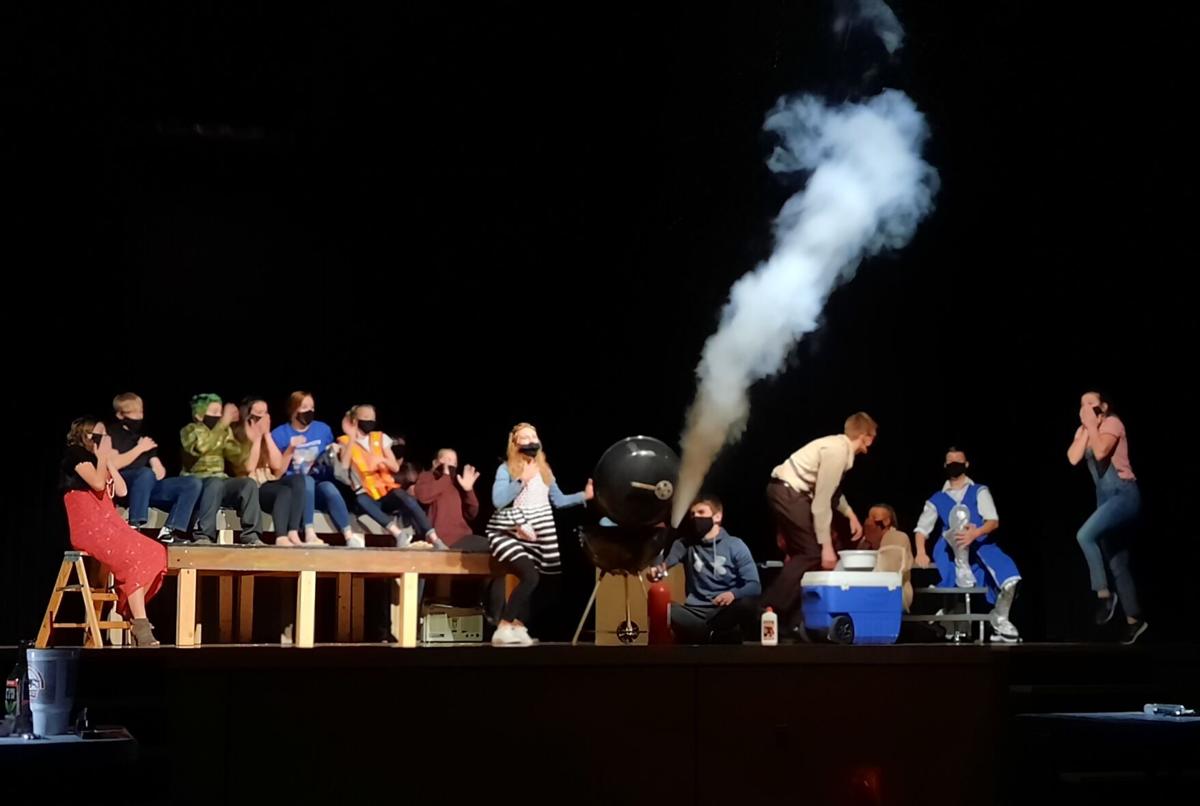 WACO – It's a one-act play never performed by any other ensemble, but is hitting the stage on the high school One-Act Play Competition circuit this season: "It Was a Busy Day."
"It Was a Busy Day" is being performed by Nebraska Evangelical Lutheran High School One-Act Team this season, but the fact that it has never been seen before this year is only part of what makes the play special. It was a collaborative writing effort by coach Cori Humann and her NELHS students.
Humann wrote last year's play, but this year decided to get the students in on the writing process. "It was easy for the kids to give their ideas; the planning sessions were very energetic," Humann said. "I liked the dynamics of that."
Born of those sometimes-wild brainstorming sessions was "It Was a Busy Day," a reverse murder mystery – a student-generated idea. "You know someone is a killer, but you don't know who was killed," Humann explained. "I had the kids throw out a bunch of ideas."
Things started to get a little crazy when the team members started throwing out zany ideas about how the mystery victim might have been killed, the scenarios all narrowly-missed by the unlikely protagonist. "Someone said, 'competitive jousting,'" Humann said. Another idea came from a slight misuse of the term "burned at the stake." A student threw out, "burned by the stake." Humann pointed out the term didn't involve the word "by," but the single word snowballed into a wild way to narrowly escape death involving a barbeque grill and a "steak."
Humann said the creative endeavor was partially inspired by the logistics of a "normal" play production. By writing their own script (Humann wrote last season's herself) the school avoids costs and hassle associated with obtaining performance rights and other permissions to use a script.
The most obvious benefit, however, was the personal and creative investment the students had in the play. As props and scenery were loaded up in preparation for the next performance, the team took charge. "I didn't have to do anything – I don't have to worry," Humann said. "This is something we're all doing together."
A few crew members took charge of assembling costumes, and the entire ensemble continues to elaborate on what started as a brainstorming session. "They've all built their own characters," Humann said. Students also came up with their hair and makeup ideas, which have to be finished before arriving to the competition site due to coronavirus concerns.
Like many, if not all, one-act play productions in Nebraska, NELHS's team has been affected by the novel coronavirus. For some time, the team was riddled by quarantines, Humann herself spending some time away from school. Both leads in the play were among those having quarantines, but by Wednesday – the team's first competitive performance – nearly everyone was eligible for competition.
In the time of COVID-19, a zany creative endeavor like "It Was a Busy Day" offers a way to escape a hectic, unknown time. Humann said the feedback after their first performance was positive. "One of the teachers said, that's exactly what I needed."
Stay up-to-date on what's happening
Receive the latest in local entertainment news in your inbox weekly!