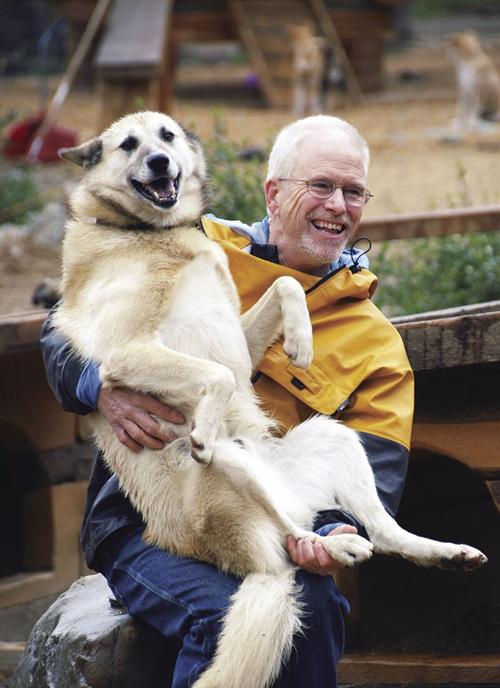 Alaska's Iditarod Race is the most famous sled dog race in the world. The start of that race is coming up in another 10-days and I'm one Nebraskan who will be interested in the results. 
Why would I be interested in the Iditarod? Well it's probably because of the Fun Club's previous adventures in Alaska and Canada's Yukon. The Fun Club has visited several different sled dog sites on various trips. One of the most fun visits was our 2014 tour to the Husky
The owner of Husky Homestead is a musher named Jeff King who is often recognized as the "Winningest Musher in the World."  He won the Yukon Quest in 1989 and the Iditarod Trail Sled Dog Race in 1993, 1996, 1998 and 2006.
He has also won numerous first-place titles in other races in Alaska and Canada. King has logged more than 150,000 miles on a dogsled over the past 35 years. To put that distance in perspective, he has been around the earth six times on a dogsled. In the summer, he welcomes visitors from around the world to watch his sled dogs in action.   
When we arrived at the Husky Homestead kennel, the Fun Club travelers got to hold and cuddle the puppies. We were told that playing with the puppies was helpful in socializing them and that successful mushing dogs must be able to interact with any human they encounter. We also had fun petting the full-grown sled dogs.   
Alaskan Huskies are the most common breed for Iditarod racing. These are not the pure-bred, fluffy, attractive breeds so often portrayed in the media. The Alaskan huskies are in fact mongrels and are bred specifically for sled dog performance attributes like toughness and endurance.  
After we learned about the dogs, King selected some of them to do a practice run hauling him in an ATV around the property. The dogs howled and begged to be selected, removing any doubt that these dogs love what they do.   After the run, we viewed another training activity with a dog running round and round in an oversized exercise wheel. 
The tourists who visit Husky Homestead find out that King, not only knows about dogs and racing, he is also an excellent story-teller. He shared information on his background, the tradition of dog mushing and his adventures on the trail. He demonstrated the many layers of clothing a musher must wear to keep warm during the frigid conditions of the race. And he kept us laughing the entire time.
Some of King's genius is that he likes to invent and has made many improvements to his sled. Traditionally mushers stand on footboards behind the sled. Several years ago, King added a seat to his sled to help him endure the long-distance races. Then, after falling asleep and falling off the sled, he added a seat belt. 
Another of King's innovations is handlebars which heat up to 200 degrees. The heated handlebars warm his hands and his food. I know my husband would have loved the heated handlebar invention on his snowblower this past month!  
In checking out the list of mushers for this year's Iditarod, I was disappointed to see that Jeff King had scratched.  Even though he won't be in the race, I know that some of his innovations will surely be well-represented.
And when this crazy COVID-19 is over and you visit Alaska, I encourage you to check out Husky Homestead for a delightful and fun learning experience.  
During the coronavirus epidemic, the Fun Club may be reached at yorkfunclub@gmail.com. Or, you may call Bernice at 402-366-9648 or Dave at 402-366-4322.