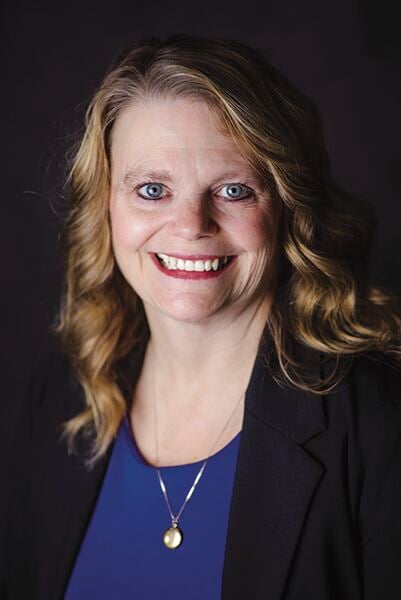 Sitting back and reflecting on this past year, one would think that our take away is only that of struggle, sadness and stress. While these are normal feelings any year, this year had brought a new level to these emotions and possibly added others. Businesses, organizations and families have cancelled or adjusted just about everything planned in 2020. The Chamber has not been immune to change either.
2020 started off with such excitement as we celebrated our members with our annual banquet and were energized with words from our Chamber President, Carrie Colburn. She highlighted the importance of connections within the organization and to step outside our box to form new relationships throughout the year. Little did she know her words would be the calming tone used by our Chamber Team as well as our board throughout this past year. We utilized various forms of communication to reach out to our membership and the community to offer support in any way that we were able.
Information and resources were communicated to the Chamber at a rapid rate and it was necessary to communicate that out quickly if York was going to come out of the pandemic in a solid position. Knowing that we cannot do everything ourselves, we worked throughout the year with several of our partners to help businesses qualify for grants that were offered through the federal, state and local levels. Securing these funds have helped so many keep their doors open in order to continue serving the community.
These valuable resources are just one of the many ways that area businesses felt supported. The residents of York and surrounding area have been a great support throughout this year. Showing our local retail, service and restaurants that we care they are here has helped both financially and emotionally. Community members and businesses alike launched gift card campaigns early on in the pandemic. As the weather improved, we saw couples and families shopping and doing business in town.
As we prepare for the holiday season this year, change is still very much a part of our planning process. Much of our focus at the chamber and that of our businesses is centered around comfort and safety for both shoppers and employees. A lot of attention to limiting large numbers within stores is paramount and offering expanded hours is a very workable solution. We are encouraging residents who want to avoid crowds in larger communities to shop safe, shop local.
Small Business Saturday (SBS) is a national shopping day that takes place the Saturday after Thanksgiving. This shopping day encourages consumers to Shop Small® and support their local communities. Along with Black Friday and Cyber Monday, SBS kick-starts the holiday shopping season. Local York businesses will celebrate Small Business Saturday, November 28. The Chamber has worked with our local businesses to reward customers for shopping local on Small Business Saturday. Shoppers can 'earn' a shopping gift bag by spending $20 at participating retailers, while supplies last. There will be over 350 shopping bags distributed throughout York with a total value of $4,000. Small Business Saturday's main focus is for a calm and casual shopping experience to be enjoyed throughout the day. New this year, the Boy Scouts will be selling funnel cakes and Windstream will have hot cocoa for shoppers. We encourage everyone to stop at Sixth and Lincoln Avenue and enjoy a funnel cake or hot chocolate in support of the Boy Scouts.
Continuing to highlight how businesses are supporting businesses, several non-retail businesses have taken part in Small Business Saturday to help enhance the experience for both shoppers and retailers. Gift cards, Chamber Checks and gift certificates have been provided by participating businesses as well as other organizations throughout the area. I encourage you to thank these organizations for all they do to support both the businesses and residents of York during this promotion: 16th Street Car Wash, Baer's Furniture, Captain Red Beards, Crossroads Awards, G Force Car Wash, Ginny's Hallmark, GoodyPop, Holiday Inn Express, K9 Kennels, Kirtsey's Clothing & Gift Boutique, Lichti's TV, Appliance & Furniture Center, Mahoney House Assisted Living, McNeill Floral, Mr Dukes Mercantile, Peterson's Petal Company, Renewable Relics, The Flower Box, The Jewelers Vault, The Lockbox, The Quilt Basket, The Trading Post, Union Bank & Trust, Valentino's, Wagner's Decorating/Isaiah's Toy Box, Wessels Living History Farm, Windstream, Wendy's, York Ace Hardware, York College, York Country Club, and York County Visitors Bureau.
Rhonda spent time accumulating a list of local merchants that will be offering special Sunday shopping hours. With expanded hours, crowd sizes will be smaller and the shopping experience will be more enjoyable. These stores have shared with us they will host Sunday hours during the month of December: 16th Street Car Wash, Baer's Furniture, Cellular Advantage/US Cellular, Ginny's Hallmark, GoodyPop, Kirtsey's Clothing & Boutique, Lichti TV, Appliance & Furniture Center, McNeill Floral, Mr Dukes Mercantile, Peterson's Petal Company, The Flower Box, The Lockbox, The Trading Post, Wessels Living History Farm, York Ace Hardware, York Orscheln's, York Tractor Supply, and York Walmart.  This year, the Chamber Office will also be open from 12 – 2 on Sundays so shoppers can bring in their receipts for Holiday Rewards.  This list of retailers along with their specific Sunday hours can be found at: https://yorkchamber.org/sunday-hours/.
Santa was in our office this morning checking on the to-do list that he left for our team. We have assured him that we will have Santa's York hut ready for him to safely greet local families. We have ordered Santa his own special face shield and we have plans to decorate the hut in order to accommodate the various levels of comfort for each family. Santa's Hut will once again be located at York's Kilgore Memorial Library and his schedule will be Thursdays (December 10 and 17) from 5 – 7 PM/Saturdays (December 5, 12 and 19) from 11 a.m. – 1 p.m./Sunday (December 20) from 11 a.m. – 1 p.m. Children are also welcome to drop off letters to Santa in the wall-mounted mailbox through December 22.
From creative shopping experiences to Santa making sure families are comfortable, I am thankful for all the hard work that has been put in by so many to make shopping York a great experience for everyone! #letskeepthecheerhere #supportlocal
Be the first to know
Get local news delivered to your inbox!