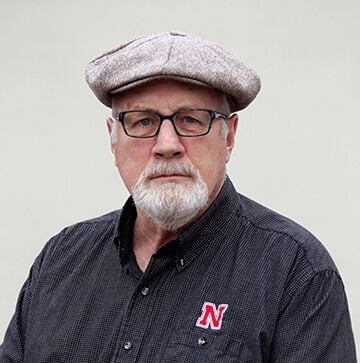 A story by higher education reporter Rick Ruggles popped up in the Omaha World-Herald this week that made me want to leap to my feet in jubilation (a task not easily accomplished with me these days).
Rick wrote in-depth about the difficulty of math-challenged minds to obtain a college degree. I would add 'helpless' to that difficulty along with monumental stress, frustration and resentment for, in my case, more than 50 years.
His opening two sentences had me riveted from the get-go – "Those who find math a mystery might sympathize with high school students who grapple with percentages, fractions, formulas and equations. Teachers in Nebraska say this is no trifling problem and warn that weak math skills are a key impediment to graduating from college."
Relief, like a tidal wave, washed over me. Perhaps I am not the only math idiot whose college prospects were burned to ash by numbers and letters and formulas and equations.
Then came the true subject of Rick's story, which is that lifelines are being thrown to students who are now – as I was back in the middle 50s and 60s – lack the intuition to master math in its many mutations.
However the sun may be rising for students who find themselves as trapped now as I was then. It turns out some 35 high schools, six community colleges and UNO are involved in the new Nebraska Math Readiness Project.
Before we go a single inch further, I must pause to cause a certain demographic among you to understand my bitterness does not extend to math teachers personally, but only to the horror they are mandated to visit upon students in their torture chamber classrooms.
Some people are good with numbers, I get that. Others are better suited to dabble in words. I have wonderful friends who are brilliant and successful in business and life, but whose sentence construction, spelling, punctuation and grammar are abysmal. It just doesn't come naturally to them through no fault of their own, yet somehow they earned a college degree while I, every bit as pitiful with numbers as they are with words, could not.
The first thing to go wrong for me came in the mid-50s when the Russians launched the satellite Sputnik into artificial orbit. How on earth could this have anything to do with washing me out of college you ask? Stay tuned.
At this stunning accomplishment panic ensued in this country's world of academia. It was assumed, say the historians, we must be lagging far behind the Russians in math, science and technology. In knee-jerk reaction, then, New Math was hatched, a tricked-up curriculum long since dismissed as profoundly flawed. Fatally so for me.
This was the purported reason New Math taught arithmetic in bases other than 10 despite critics' derision then and since. It has been written, "In that unfamiliar context, students couldn't just mindlessly follow an algorithm, but had to think why the place value of the hundreds digit in base seven is 49." How you doing so far? Following along in total comprehension, I bet. But let us continue and, keep in mind, this is only the tip of the iceberg. "Keeping track of non-decimal notation also explains the need to distinguish numbers (values) from the numerals that represent them, a distinction some critics considered fetishistic."
Fetishistic! Did that guy just say New Math was fetishistic? No wonder simple little Stevie, a gangly kid whose tiny mind was predisposed toward words even then, immediately crashed, burned, fell light years behind and never caught up.
I know all this thanks to Wikipedia. At the time all I knew was fear, panic and stress no 8-year-old in North Platte, Nebraska, ought to endure.
So right when I should have been getting base 10 math functions down, teachers were flopping me back and forth between base 7 and god knows what else like a frog in a hot skillet. Of necessity I skidded along by the seat of my pants, trying to hide my mammoth failure. I faked it well enough to, by some miracle, escape high school.
Next comes then-Kearney State College, off to which I rushed in pursuit of a career in writing. It was what I loved and seemed to do best.
I was not alone in that assessment. On the occasion of my graduation in 1967, Genoa High School teacher Katherine Nutter penned the following in a graduation card which sits, cherished and prominent, on a shelf in the man cave: "Moseley – You cannot help but know that I am interested in you and your future. I have told you that I feel you have potential in the journalism field. I may be wrong (but) whatever you do I wish you success."
I will never claim to have been maniacally academic, but nonetheless off I went to Kearney, moved into Randall Hall and get busy seeing what would happen. What happened was disappointment, heartbreak and shame.
That first semester they told me a basic, prerequisite math class would be required. I dutifully scheduled Math for Dummies 101. No problem, methinks, let's suck it up and get this albatross off my shoulders so I can move on to courses that might actually prove useful to me one day. Next thing I knew a blizzard of weird logic equations and endless other unsolvable mysteries knocked me out cold.
The final blow came one afternoon that first semester when I finally screwed up the courage to raise my hand and ask a question in what proved to be my final act of academic bravery. The instant response from my peers was laughter. Beet red and humiliated, I slunk from the room when the session mercifully ended and swore never to return. I am, if nothing else, a man of my word.
Knowing this to be the end of college for me, I hung around and partied until a row of 'zero' grades caught up with me halfway through the second semester. That's when I moved back home and took my place on the assembly line at Douglas & Lomason Co. in Columbus clamping wire springs on seat frames for new automobiles with a pliers eight hours a day.
Perhaps misplaced arrogance causes me to suggest I am possessed of basic intelligence adequate to have graduated college, however thanks in no small part to an ill-conceived and poorly executed flash-in-the-pan math curriculum I – and you – are destined never to know.