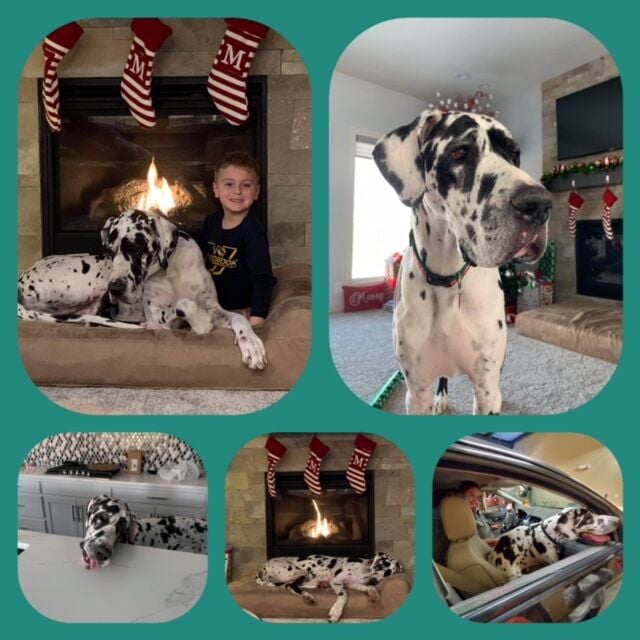 On Saturday night, December 5, a friend called me and told me she had been transporting a dog and on the swap off to the next vehicle, at Wendy's by the interstate, he had gotten scared and ran away.  I learned his name was Fletch and he was a very scared Great Dane. He was being transported by volunteers for Big Dogs Huge Paws Rescue. 
Unfortunately I could not go out as I had puppies at my house that were in need of some extra help and I had my hands full with them that night. So right away I asked for pictures and got Fletch advertised on the Missing and Found Pets of York, NE area Facebook page I use for YAAP. The shares started and my phone went crazy! Luckily for me, I have Sandra Chapin and her daughters, Whitney and Autumn, that help out a lot with missing dogs.  They went out immediately looking for Fletch. I was receiving messages as he kept eluding them. I realized very quickly this was not going to be an easy one for us. Finally everyone went home for the night as it was so dark by then and no one could see.
The next morning people were out again. There were absolutely no sightings of Fletch at all on Sunday. I was a little worried he had left the area but after speaking with one of the rescue workers, they thought he was probably just lying low for a bit. 
Sure enough, on Monday he was sighted again. He was now on the south side of the interstate near Five Star truck Wash. We received a call and as luck would have it, Tom and I were in the drive-through of Dairy Queen so we were there within a couple minutes. Of course, when we arrived, he was nowhere to be found. I drove around and Tom walked miles through fields hoping he could see Fletch. Whitney, Josh and Autumn were out there as well going through the fields, as were several other people.
The next day a member of the rescue team brought horses out and walked miles on horseback but never had any sighting of him that day either. Also Chad Stuhr from Waco took his gyrocopter up three separate times trying to see Fletch.  Unfortunately he was not able to see him either.
Danielle, who was Fletch's foster mom in Colorado, had driven out with her dog to help  catch him. She arrived the night of December 8 and I was so happy she was here and thought we now maybe had a chance to get him back to safety.
On the morning of December 9, I received a private message on York Adopt A Pet's page that someone at Petro heard a truck driver say he had hit a very large dog on Highway 81. My heart sank. I let Sandra Chapin know as she was getting off work soon and asked if she could go drive the highway. 
She did not see anything and was headed back to York as I received a text message from Holden Kaliff around 7:30 a.m. He said Fletch was back in the area of Five Star Truck Wash, hanging out around a pile of excess dirt in that area. 
Right away I text Sandra Chapin again and let her know where he was because I was still doing my dog shift at the shelter.  I also sent a text to one other rescue volunteer so she could tell Danielle where he was.  
I received multiple texts and calls in the next half hour. 
Then, two of our board members were heading out of town for the day and as they got to the on ramp to the interstate, there stood Fletch. 
Of course Charlie got out and called for him but Fletch was not going to come to him either. They called me and I told Sandra.  Immediately she headed toward the interstate again and he was running alongside the eastbound lane. She stayed beside him, driving on the shoulder of the road so he could not come up onto the interstate. 
In the meantime, I left the shelter and was on my way out.  Autumn called me and told me he had run one mile on the interstate and then had gotten off and was headed south again.  She was driving beside him. 
I was almost there, so I took a turn and headed west. I came to a stop on the next mile -- I could see Autumn off to the south of me and I saw two cars that were coming from the north. I decided to follow Autumn and as I caught up to her, I finally saw Fletch for the first time. Talk about a beautiful dog! 
Fletch came to the end of the mile, then turned and headed back west. You could tell he was getting tired but still did not want to be caught. 
He stopped for a brief minute and we all pulled over. We let Danielle come to the front of the line to see if she and her dog could entice him.  By then Fletch had decided to take off in the field again and Autumn went in after him. Sandra and I backed up and were headed back to meet him on the other side of the field.  By the time we got there, Autumn had managed to cut him off with her car, grab his collar and pull him into her car. 
I was so excited! The search was finally over. Autumn hurt her hand in the process but said she was glad she had done it. 
We drove to the shelter and pulled Autumn's car into the garage. We did not want to chance him getting away. Danielle got him out of the car and he did not know her at first but as I watched him, you could see his eyes light up when he finally realized who she was. This was such a magnificent thing to witness and I will never forget it!  
I tried to clean up his wounds a bit and Danielle gave him some water. This poor guy was exhausted. Another fun thing to see was when Autumn  got her daughter out of the car seat and got his interest right away. 
Merry, the new owner said he is great with her son as well. 
Danielle got a second leash on him and we walked him out to her truck. I was thrilled when she said she was taking him in her truck to Omaha to the new owner. What an amazing person to drive all the way from Colorado and then when he was caught, be more than willing to take him the rest of the way to his new home. 
Thanks once again to Sandra, Autumn and Whitney for all their help. As for everyone else who helped look, I appreciate it so much. To those who shared my post (I think we had well over 1,400 shares on my original post), or notified us of his  whereabouts,  I thank you for your help! I still swear if you are going to lose an animal it's best to do it in York!