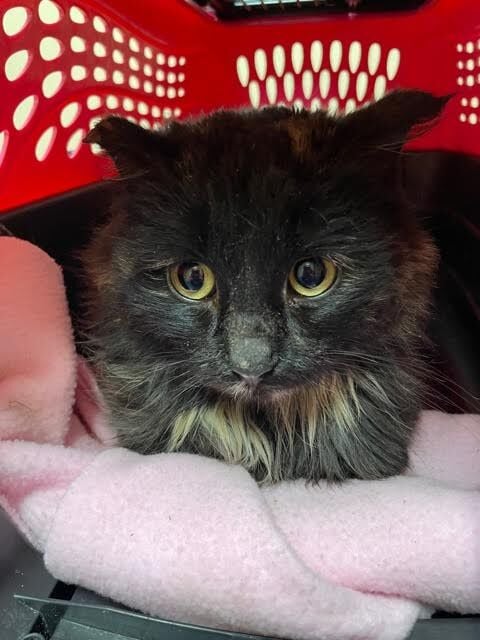 This isn't the story I planned or wanted to write today. 
I am forcing myself to sit down at my computer and explain the story of Valerie.
Let me start with saying Valerie was not just another stray abandoned cat. People saw her on the streets these past cold and miserable days, running under cars, too scared to let anyone approach her. Jessica Gibson couldn't catch Valerie, but she was able to take a couple of photos and put it on York's Lost and Found Pets. She wanted to help this small defenseless cat and to get her out of the terrible life she was living. 
Valentine's Day, two heroes managed to catch Valerie on 10th Street behind Dollar General in downtown York. Kathy Klein who lives nearby saw Valerie sitting in the middle of the street. She threw on her coat and ran outside.  
At the exact same time Deb Holmes drove up and left her car in the middle of the street. Both spent 20 to 30 minutes trying to catch this little girl. Finally they managed to get her between a huge pile of snow and next to a building. As Valerie launched over the snow pile, Deb, who had grabbed a blanket that she carries in her car for their dog, managed to throw the blanket over Valerie. Kathy and Deb had never met before, but both worked side by side to save this little cat.   
I was called to ask if I would take her in. A kennel had been secured,  with a heating pad. A warm blanket was wrapped around Valerie for the short drive to my house. I met Deb at the curb and quickly assessed the condition of Valerie. First was to use a hair dryer to dry her long wet fur -- even though the temperatures were well below zero the heat from her body and the heating pad had melted her iced coat and she was dripping wet. She was very lethargic but once she was totally dry, I wrapped her in another heating pad and put her in a basket by my heating vent in the bathroom. 
I then offered her a portion of Science Diet AD which is used for critical care for dogs and cats. She ate five ounces and was then ready for some dry. She continued to eat, drink and she used her litter box several times. I knew that her back pads on her paws were loose as though they had been frozen to the snow and they were raw. I treated them with antibiotic cream and let her rest and gain some strength the rest of Sunday and Monday. 
I called York Animal Clinic Tuesday morning to have her checked over. Dr. Brianna gave her a thorough exam, we discussed her ongoing care. She said it was imperative to keep her paws clean for the chance of infection. I explained that she would stay in my bathroom, and that it was all tile and I could keep it disinfected easily. Dr. Brianna suggested using paper for the litter and I agreed and said that was what I had been using. 
She was a typical torte, her big gold eyes followed every move you made. She allowed me to pet her and pick her up, but she was also on guard. 
Dr. Brianna took her in the back to run the Felv leukemia test and while waiting for that, Dr. Brianna discovered that her tail was possibly broken or had been frozen along with the tips of her ears. Dr. Brianna and I decided to give her a convenia long lasting antibiotic injection, and to let her gain some weight and strength before doing anything more for the paws, tail and ears. She left to get the test and was then going to give the antibiotic injection.
When she walked back in the door with the test kit in her hand, I knew Valerie had tested positive for Feline Leukemia. There was little else to say. We both felt defeated. This little girl who had been through so much, had the brightest clearest eyes, she was eating, drinking and using the litter box -- but had a hidden disease was below the surface.  A disease that with all of her injuries she would not be able to conquer.  She would never grow up strong and healthy even with all the antibiotics and care. 
Her suffering was over thanks to Jessica, Kathy and Deb, Judy and Dr. Brianna. Valerie was warm, her tummy was full, and she was loved. She didn't have to die alone, cold and hungry. 
There are so many Valeries trying to survive in the alleys, bushes and under cars in and around York.  Please be a Deb, Jessica, Kathy, Dr. Brianna and Judy. Be a hero and help them out.