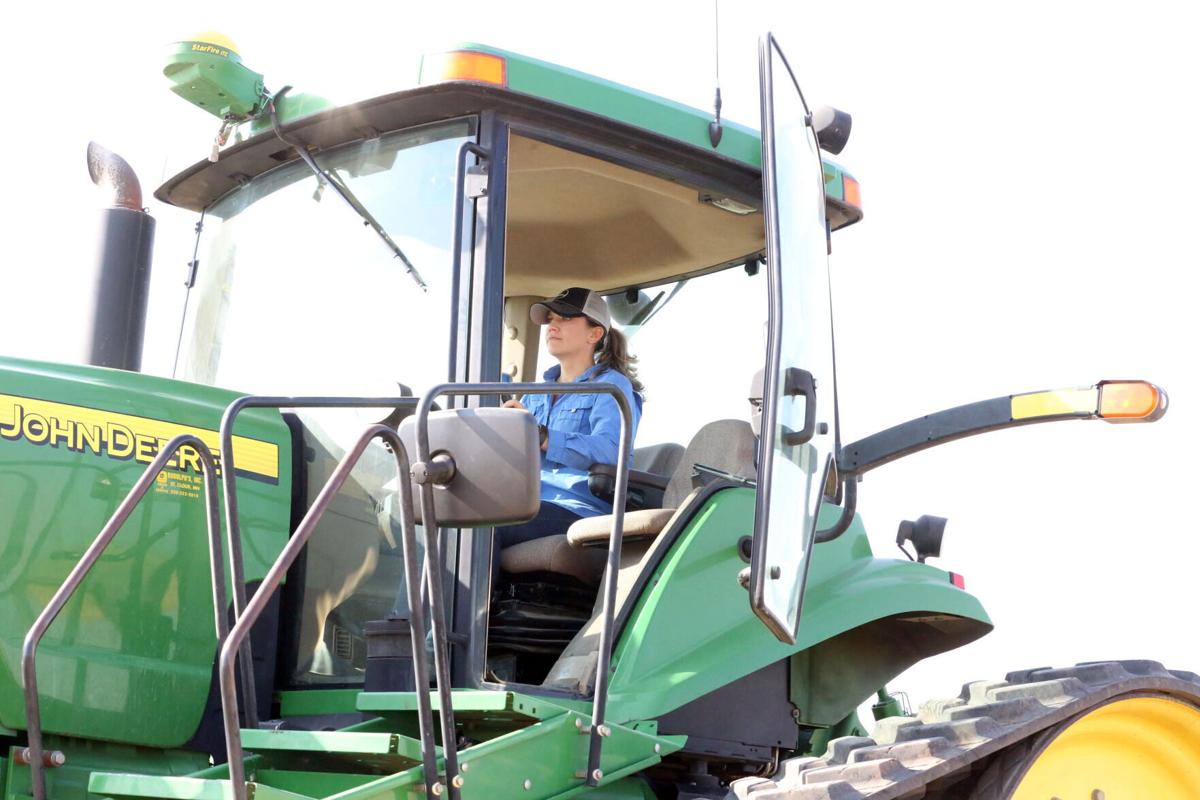 YORK COUNTY -- Amy Bruch is a family farmer in heart, soul and mind.
Bruch, a local organic row crop producer, will soon lend her passion and fascination to the 15-member United States National Organic Standards Board (NOSB). She is the first Nebraskan appointed to the board, the volunteer members selected by U.S. Secretary of Agriculture Sonny Purdue.
Bruch and her husband, Tyler, own and operate Cyclone Farms while getting hands-on alongside their much-valued hired help. The couple has worked with 20 different types of crops, and Bruch has gained and offered expertise on four continents.
Much of Bruch's life has been centered around experimentation, and the lessons of trial and error – many alongside her father, Gary Schlechte, and with the support of her mother Cheryl and sister Stacy. "I learned from my dad's point of view. I worked really closely with him growing up," she said. "We did some crazy, interesting experiments together through the times we worked together." Bruch said she remembers tinkering around in her father's greenhouse, and, for example, experimenting with soybean production. The duo mowed off soybeans to try to make them grow and branch out in different ways. "He had a curious mind. He would have a lot of fun doing this [organic row crop farming]," Bruch said. "He liked challenges, and I think he passed that love to me."
Gary passed away suddenly in 2012. "It seems like yesterday," Bruch said, gazing across one of Cyclone Farms fields. "Instead of working with him, we're working for him now."
"As farmers we only maybe have only one time a year to do what we love," Bruch said. "Who knows if we're going to have ten or 30 or 50 seasons in our lifetime – or even more."
Bruch and Cyclone Farms reflect Gary's "zest for life," and the fragility of life itself. "Every day you need to try and make a memory," she said. "To learn different people's approach and being open to learning new things has been a real blessing for me. There are many ways to do the same thing." Bruch said one of her philosophies is to marry the way people farmed decades ago with current technology, all while maintaining organic status. "There is a renewed focus on agronomy as soil health as our number one defense to fight the challenges of the season," Bruch said.
Organic farming offers significant challenges, Bruch said. "It's a humbling way to farm. Not everything works the way we want it to; you've got to make a Plan A, Plan B, Plan C," she said. "There isn't a road map for what we do; there is definitely not an 'easy' button, because the solutions are very different. It requires very detailed plans, management and record keeping, but it has allowed for my husband and I and our team to dive deeper into soil balancing, applying new technology and expand our team to allow additional opportunities for those interested in ag to get involved."
"It's just been an enjoyable way to farm," Bruch said.
No matter the approach, Bruch said farmers are alike, more or less. "Farmers are really connected. If you're a farmer that's kind of a common thread, whether you're in the southern hemisphere, the Far East… There's something about being a farmer that naturally connects everybody."
Bruch has seen this first hand, having traveled to South America, Europe, Africa and the Middle East. "I'm fascinated by all types of agriculture. My husband and I have been blessed to have been exposed to different types of agriculture," Bruch said. "It's a common thread that allows for benchmarking, innovation and support."
"Some of the countries I've been in are innovating at a very rapid rate," Bruch said. "It's good to keep on traditions, yet be aware and cognizant of the global approach."
A sixth-generation farmer, Bruch said she understands the importance of a family farm nucleus. "It's just a matter of doing the right thing; trying to learn, trying to make sure the traditions and legacy of the family farms can keep going and be passed on."
There is a perceived level of disconnect – even disdain – between the organic and conventional farming camps, but Bruch said the two farming philosophies can coexist – and need to. "If we stay united in one voice we can be more powerful. We all have good times and we all have bad times. It's a life, not a career. We all have that commonality."
Be the first to know
Get local news delivered to your inbox!